Dennis Quaid as a Patient Safety Advocate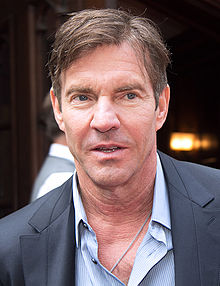 Dennis Quaid is best known as an actor in over 50 films such as The Right Stuff, Wyatt Earp, Footloose, Far from Heaven, The Day After Tomorrow, and The Parent Trap. However, one of his lesser known but most important roles is as a patient safety advocate.
Back in 2007, Dennis Quaid's newborn twins were given a nearly fatal dose of heparin, a blood thinner, just ten days after they were born at Cedars-Sinai Hospital in Los Angeles. The dose was 1,000 times higher than the normal dose for infants.
The twins, Thomas Boone and Zoe Grace, are fine today but the accident and subsequent media attention ended up with the hospital instituting new patient safety standards. Since then, Quaid has been an outspoken patient safety advocate and has produced a series of documentaries about preventable hospital errors for the Discovery Channel.
After the overdose, the twins nearly bled out and there was a 44 hour period during which they didn't know what the outcome would be. Even after the immediate crisis had passed, it wasn't clear if there would be any long term effects.
Dr Michael Langberg, chief medical officer at Cedars-Sinai, said in a statement: "This was a preventable error, involving a failure to follow our standard policies and procedures, and there is no excuse for that to occur at Cedars-Sinai. Although it appears at this point that there was no harm to any patient, we take this situation very seriously."
Babies normally receive 10 unites of Heparin but the twins received 10,000 units. Shockingly, the twins were administered the 10,000 unit amount not just once but twice. TMZ reported that it happened because a pharmacy technician accidentally put a 10,000 unit vial in the drawer that is supposed to contain only 10 unit vials.
The Quaids spoke to 60 minutues about the ordeal:
Quaid and his wife Kimberly sued Baxter, the makers of heparin, accusing them of failing to put clear distinguishing labels on its 10-unit and 10,000-unit vials of heparin, and failing to recall the product after three other infants died because of a mix-up. The Quaids seek at least $50,000 in damages.
The Quaids' lawyer says the couple is filing suit in order to prevent such an accident from happening to other people.
The Quaids also testified before Congress in May 2008 asking that patients retain the right to sue drug manufacturers for negligence. They launched a foundation
Dennis Quaid co-authored Story Power: The Secret Weapon, a medical journal article whose objective was "to introduce story power as an untapped vehicle to inform, equip, and challenge leaders to drive change that can save lives, save money, and build value in communities through adoptionof the National Quality Forum Safe Practices."
Dennis Quaid and his wife have made a great deal of change happen in the healthcare industry. As Quaid has often said, these types of incidents happen every day to regular people. It's a shame that it took it happening to his family to make a change but, unfortunately, sometimes in our society it takes a celebrity who is impassioned about a cause to call attention to a much needed issue.