Evel Knievel, 69, Dies of Pulmonary Fibrosis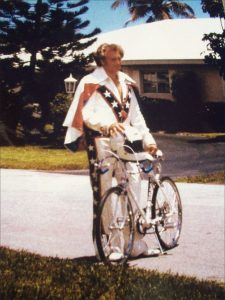 Evel Knievel has died in Clearwater, Florida at the age of 69. The legendary daredevil had been suffering from idiopathic pulmonary fibrosis that required him to be on oxygen 24 hours a day.
On November 30, after Knievel was having trouble breathing, an ambulance was called but he died before reaching the hospital.
Knievel also suffered from diabetes and hepatitis C, for which he underwent a liver transplant in 1999. He also suffered from severe pain from the many broken bones and physical injuries he'd suffered over the years.
In 2007, Knievel underwent a major religious transformation and announced that he had converted to Christianity. Speaking of the experience, he said:
"So I don't know what in the world happened. I don't know if it was the power of the prayer, or God Himself, which was reaching me while I was driving or walking down the sidewalk or sleeping … the power of God in Jesus just grabbed me! It just took hold of me. It was so strong. I can't tell you how strong it was and I became a person who was filled … just filled with Christianity. All of a sudden I just believed in Jesus Christ. I did! I believed in Him! I don't know what happened to me."