Heath Ledger Dead at 28 of Possible Drug Overdose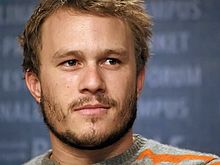 Actor Heath Ledger, 28, was found dead by his housekeeper in his Manhattan apartment this afternoon and early police reports say there were a lot of pills around the bed.
Police say they do not suspect foul play but they are still investigating the scene. The details of his death are still coming out and it is unclear if it was suicide or an accidental overdose.
Ledger recently finished filming the new Batman movie, "The Dark Knight," in which he plays the Joker. The movie was set to be released this summer. He has a 2-year-old daughter named Matilda with ex-girlfriend Michelle Williams.
Ledger gave an interview in 2006 about his preparation for a role as a drug addict in the movie "Candy." In the interview, he said: "I do think that drugs and alcohol have been obviously glorified and mythologised. We've kind of connected that with what it takes to create something, which is anything from the truth. Creation comes from your mind and it's hard to create when you're phased and drugged out. I'm sure drugs and alcohol would inspire new thoughts but it's certainly not something that I use as a tool or a mechanism to create."
TMZ is reporting that he was found face down on the bedroom floor. They are also reporting that the pills were sleeping pills.
Update: Heath Ledger's death has been ruled an accidental overdose. He had six different drugs in his system – two painkillers, two anti-anxiety drugs, and two sleep aids. The medical examiner's report states:
Mr. Heath Ledger died as the result of acute intoxication by the combined effects of oxycodone, hydrocodone, diazepam, temazepam, alprazolam, and doxylamine.
We have concluded that the manner of death is accident, resulting from the abuse of prescription medications.
The DEA is now undertaking an investigation to determine how he got so many drugs.