Johnny Grant, Honorary Mayor of Hollywood, Dies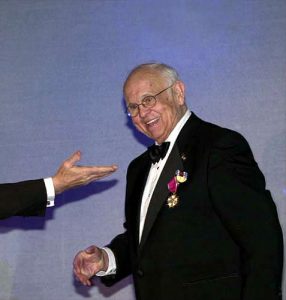 Johnny Grant, the honorary mayor of Hollywood since 1980, has died in Hollywood at the age of 84.
Spokeswoman for the Hollywood Chamber of Commerce, Ana Martinez-Holler, said, "I had lunch with him today … we had omelets together and he said he wasn't feeling good. I saw him walk away after lunch, and that was the last time I saw him."
He passed away later that night of natural causes at the Roosevelt Hotel where he kept a full-time suite.
Grant, who was born in 1923, was a radio personality and television producer. He was also the only person to receive the Order of California, California's highest honor, twice. He was host of the game show "Stop the Clock" and was a regular on many television programs, radio shows and newscasts.
"He was the bridge between Hollywood's golden past and what's happening today," Hollywood Chamber of Commerce President Leron Gubler told the crowd gathered to place flowers around Grant's star in front of the Kodak Theatre, a symbol of the community's revitalization. "Johnny was perhaps the greatest cheerleader Hollywood ever had, even in its darkest days."
Johnny inducted over 500 celebrities into the Hollywood Walk of Fame and produced the Hollywood Christmas Parade.
The official Youtube bio of Johnny puts his life and achievements into perspective: