Legendary Singer and Guitarist Bo Diddley Dead of Heart Failure at 79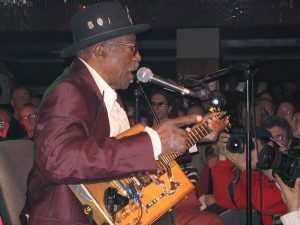 Legendary singer and guitarist Bo Diddley has died of heart failure at the age of 79. He passed away at home in Archer, Florida surrounded by more than 35 family members. He had suffered a stroke after a concert in May and a heart attack in August. He was at home in Florida undergoing speech rehabilitation.
One of his grandsons, Garry Mitchell, told reporters, "There was a gospel song that was sung, and he said 'Wow!' with a thumbs up. The song was 'Walk Around Heaven' and in his last words he said that he was going to heaven."
He had a large, loving family that survived him including four children, 15 grandchildren, 15 great-grandchildren, and 3 great-great grandchildren.
Bo Diddley was one of the true founders of rock and roll with his unique style influenced by Southern gospel, R&B, and rhythm and blues. It was in large part because of him that popular music transitioned from blue to rock and roll. Among the artists influenced by him were Elvis, the Rolling Stones, the Who, Buddy Holly, Jimi Hendrex, and the Yardbirds.
Diddley sang, played guitar, and wrote songs. He was known for his rectangular guitar and the "Bo Diddley beat." He was an inductee into the Rock and Roll Hall of Fame and in 1999 he received a lifetime achievement Grammy Award.
He was born Ellas Otha Bates in McComb, Mississippi in 1928. By 1934, he was going by the name Ellas McDaniel. By the 1950s when he released his first album, he was Bo Diddley. It's not certain where the name Bo Diddley came from but he claims it was a nickname given by friends.
Check out the official Bo Diddley website.