Shannen Doherty in Remission from Breast Cancer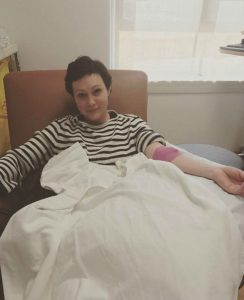 A few days ago, actress Shannen Doherty shared the amazing news that she is officially in remission from breast cancer. She wrote on her Instagram:
"Today was and is a moment. What does remission mean? I heard that word and have no idea how to react. Good news? YES. Overwhelming. YES. Now more waiting. As every single one of my fellow cancer family knows, the next five years is crucial. Reoccurrences happen all the time. Many of you have shared that very story with me. So with a heart that is certainly lighter, I wait."
She also shared that she has a lot of decisions to make regarding reconstruction and medication that comes with side effects.
"In the meantime, decisions. Reconstruction which is several surgeries. Decision on taking a pill for the next five years that comes with its own set of problems and side effects. I am blessed, I know that. But for now…. remission. I'm going to just breathe. #cancerslayer"
Doherty was first diagnosed with cancer back in February 2015 and discovered that the cancer had spread in 2016. She has been incredibly open about her journey and has been documenting her battle on Instagram as well as giving numerous interviews. In August 2016 she spoke to Good Morning America:
In October 2016 Doherty and her oncologist Dr. Lawrence Piro did an interview with Chelsea Handler. Doherty explained that she was referred to Dr. Piro by a friend after not being happy with the way her case was being handled by her medical team at the time. The conversation with Doherty, Dr. Piro, and Handler is a must-see for anyone dealing with cancer and is an intelligent, well-rounded discussion of the different aspects of coping with such a diagnosis, making treatment decisions, and taking things day by day.
With the announcement of her remission, it appears that Doherty has made smart decisions, asked the right questions, and found the right doctor for her who is willing to listen to her, answer her questions, and treat her with respect. We look forward to hearing further updates from Shannen Doherty and if you want to follow her progress, too, you can follow her on Instagram.