10 Fruits and Vegetables High in Vitamin C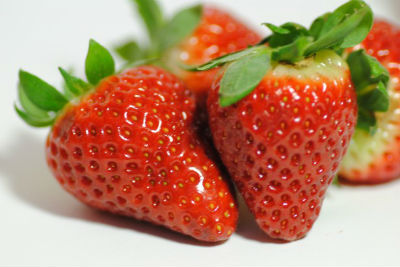 Vitamin C is one of the most widely recognized antioxidants proven to boost and maintain the immune system. Nearly 1/3 of adults in the US don't get enough of this essential vitamin. You can help your body detoxify and even heal faster by eating these 10 fruits and vegetables high in vitamin C.
Sweet Red Peppers
Sweet red peppers contains 231 mg per cup 385% of the RDA.
Papaya
Papaya contains 86.5 mg per cup 144% of the RDA.
Broccoli
Broccoli contains 101.2 mg per cup 168 % of the RDA.
Strawberries
Strawberries contains 89.4 mg per cup 149% of the RDA.
Lemons
Lemons contains 112 mg per cup 187% of the RDA.
Brussels sprouts
Brussels sprouts contain 96.8 mg per cup 162% of the RDA.
Grapefruit
Grapefruit contains 85.1 mg per cup 142% of the RDA.
Cantaloupe
Cantaloupe contains 65 mg per cup 108% of the RDA.
Kiwi
Kiwi contains 164mg per cup 273% of the RDA.
Cauliflower
Cauliflower contains 55mg per cup 92% of the RDA.
Want to get more vitamin C than you are getting from food? Check out 5 Best Vitamin C Supplements to find out which ones we recommend.