12 Facts About Tangerines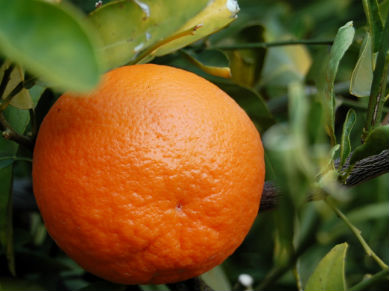 Here are 12 facts about tangerines:
The tangerine is a variety of the Mandarin orange.
Tangerines are smaller than oranges and have skin that is easier to peel.
They are believed to have originated in China. They have been cultivated in China and Japan for over 3,000 years.
Their name derives from the place from where they were first shipped to Europe – Tangier, Morocco.
Tangerines arrived in Europe in the early 19th century and North America by the middle of the century.
Florida is the top producer of tangerines in the United States.
Tangerines have a short peak season, from November to January.
Tangerines used to be nicknamed the 'Christmas Orange' because they were often stuffed in children's Christmas stockings.
Tangerines are susceptible to Alternaria alternata, a disease that causes brown spots. Alternaria was first reported in 1903 on Emperor mandarins in Australia and began affecting Florida citrus groves in the 1970s.
There are several varieties of tangerines in wide production today. These include the Honey (formerly called Murcott), the Sunburst, the Robinson, the Fallglo and the Fairchild.
The Dancy variety (often referred to as the kid glove orange or the zipper skin tangerine) is one of the oldest and was at one time one of the most popular types of tangerine. It originated in 1867 in Florida. It is no longer widely produced, in part because it is highly susceptible to Alternaria.
One medium tangerine has about 37 calories and provides 31 percent of the recommended daily amount of vitamin C.