12 Health Benefits of Astaxanthin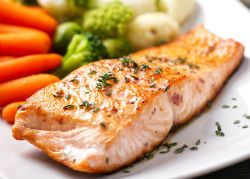 Astaxanthin is a phytonutrient found in most any ocean plant or animal with a red or pinkish color, including salmon, shrimp, crustaceans and microalgae. It is not an essential nutrient (meaning the body produces it, so it does not need to be obtained from food). However, studies show that maintaining good astaxanthin levels in your body and avoiding astaxanthin deficiency may be beneficial to your health.
Here are 12 health benefits of astaxanthin:
Eye Health
Astaxanthin may help prevent age-related eye disease like cataracts and macular degeneration. This is likely due to its potent antioxidant qualities. It is also believed to help protect the eyes from UV damage.
Cancer Prevention
Astaxanthin has potent antioxidant and anti-inflammatory properties that are considered essential in reducing the risk of many different varieties of cancer. It is believed to support the part of the immune system that is directly responsible for remembering and attacking infectious and chronic diseases like cancer. One study showed that astaxanthin may reduce breast cancer tumor cell proliferation by 40%. It also has photo-protective properties that may help reduce the risk of skin cancer.
Heart Health
The antioxidant and anti-inflammatory properties of astaxanthin are believed to play critical roles in maintaining good heart health. The compound also reduces C-reactive proteins, which may further protect the cardiovascular system from sickness and disease.
Brain Health
Several studies have found a strong link between astaxanthin consumption and brain health. It may help to prevent dementia and Alzheimer's disease and it has overall neuroprotective factors.
Antioxidants
Axtaxanthin is a member of the carotenoid class of antioxidants. Carotenoid antioxidants are known for their ability to prevent oxidative stress to the body systems and fight free radical cell and DNA damage that can lead to cancer and other diseases. Studies show that the antioxidant activity of astaxanthin may be better than all other carotenoids.
Anti-Inflammatory
Astaxanthin appears to have strong anti-inflammatory properties. A 2006 study at Hokkaido University showed that the compound had positive results when applied to ocular inflammation in the eyes. It has also proven to inhibit different inflammation-mediators in placebo-controlled, clinical trials with both animals and humans.
Antibacterial
Lab studies show that astaxanthin has antimicrobial properties and has been shown to fight bacteria like h. pylori. A Lithuanian study found that as little as 40 mg of astaxanthin reduced h. pylori bacteria significantly.
Diabetes
One study showed that astaxanthin may be useful in treating diabetic nephropathy. The study, published in 2004, showed that mice treated with astaxanthin had lower levels of blood glucose as well as reduced kidney stress and renal cell damage.
Asthma
According to a study published in the "Journal of Pharmacological Sciences" in 2004, astaxanthin can help normalize histamine levels, which is believed to help treat asthma.
Ulcers
Astaxanthin fights h. pylori and other bacteria that cause stomach ulcers. Studies of gastric ulcers in rats found that astaxanthin esters protected against ulcers in 40% to 67% of cases.
Athletic Recovery
Astaxanthin supplements may contribute to improved endurance and athletic performance. The supplements are believed to improve recovery time from injury and intense exercise.


Male Fertility
Astaxanthin supplements are often prescribed to men to help with fertility. A double blind study of 30 men found that sperm velocity increased in the group given 16 mg per day of astaxanthin compared to no increase for the group given a placebo. Pregnancy rates also increased considerably in the astaxanthin group.
If you want to start taking astaxanthin, check out our list of the 3 Best Astaxanthin Supplements before you buy.