15 Quotes About Food from Movies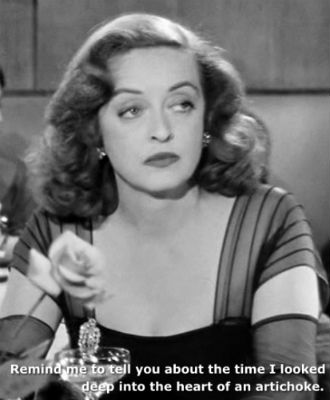 From Bette Davis to Sean Connery, we've collected our favorite quotes about food from the movies. Have your own favorite quote? Leave it in the comments section below.
"Remind me to tell you about the time I looked deep into the heart of an artichoke." – Bette Davis in All About Eve
"What's tiramisu? Some woman is going to ask me to do it to her and I'm not going to know what it is." – Tom Hanks in Sleepless in Seattle
"Sometimes the spaghetti likes to be alone." Stanley Tucci in Big Night
"I am NOT drinking any f***ing Merlot!" – Paul Giamatti in Sideways
"Nicko! Don't play with the food! When I was your age, we didn't have food!" – Lainie Kazan in My Big Fat Greek Wedding
"Leave the gun. Take the cannoli." – Richard Castellano in The Godfather
"I have been trying this new fat free diet I invented. All I've had to eat for the past six days are gummy bears, jelly beans, and candy corns." – Mira Sorvino in Romy & Michele's High School Reunion
"Annie, there's a big lobster behind the refrigerator. I can't get it out. This thing's heavy. Maybe if I put a little dish of butter sauce here with a nutcracker, it will run out the other side." – Woody Allen in Annie Hall
"I must say I sure wish it was your chili I was getting fat on. Anyway, you're sure looking good." – Orson Welles to Marlene Dietrich Touch of Evil.
"We have to convince the little housewife out there that the tomato that ate the family pet is not dangerous!" – Al Sklar in The Attack of the Killer Tomatoes
"A census taker once tried to test me. I ate his liver with some fava beans and a nice Chianti." – Anthony Hopkins in The Silence of the Lambs.
"Red wine with fish. That should have told me something." – Sean Connery in From Russia with Love
"Frying chicken just tend to make you feel better about life." – Octavia Spencer in The Help
"For dinner I'd come out of a coma." – Goldie Hawn in Butterflies Are Free
"Lunch is for wimps." – Michael Douglas in Wall Street