16 Facts About Artichokes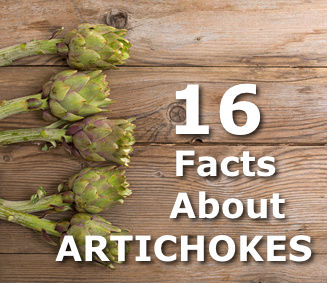 Here are 16 facts about artichokes.
The artichoke is a perennial thistle that originated in the Mediterranean.
The artichoke is technically a flower bud that has not yet bloomed.
The first mention of artichokes in literature was around 40-70 AD in The Greek Herbal of Dioscorides, a book on the medicinal uses of plants.
The Greeks and Romans considered them to be an aphrodisiac.
Artichoke seeds were found during the excavation of Mons Claudianus in Egypt during the Roman period.
Until the 16th century, women were prohibited from eating them in many countries because they were still considered to have aphrodisiac properties.
In 1576, Dr. Bartolomeo Boldo wrote in the "Book of Nature" that the artichoke "has the virture of … provoking Venus for both men and women; for women making them more desirable, and helping the men who are in these matters rather tardy."
King Henry II's wife, Catherine de Medici, introduced the artichoke to France in the 16th century . She said, "If one of us had eaten artichokes, we would have been pointed out on the street. Today young women are more forward than pages at the court."
Artichokes were introduced to England by the Dutch in the 1500s.
They were brought to the United States in the 19th century by French and Spanish immigrants.
The top artichoke producers today are Spain, France, and Italy.
It wasn't until the 20th century that artichokes were grown in the United States.
California produces 100% of the United States artichoke crop, with Castroville, California calling itself the "Artichoke Center of the World."
In 1947 Marilyn Monroe, then still going by her given name Norma Jean, was crowned Castroville's first Artichoke Queen.
Artichoke is the primary flavor of the popular Italian liqueur Cynar.
One artichoke plant can produce more than 20 artichokes per year.