20 Facts About Sweet Potatoes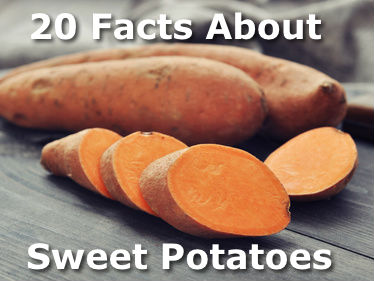 Here are 20 facts about sweet potatoes:
The sweet potato belongs to the Convolvulaceae family of plants.
It is native to the tropical areas of South America. Remains of sweet potatoes have been found there dating back to 8,000 BC.
The sweet potato was domesticated more than 5,000 years ago.
Members of Columbus' expedition in 1492 were the first Europeans to eat sweet potatoes.
The first recorded instance of the name "sweet potato" was in the Oxford English Dictionary of 1775.
Although it has the word "potato" in its name it is only minimally related to the common potato.
When the French made their first settlement in Opelousas, Louisiana, they found that the sweet potato was a staple of the local native. They ended up becoming a staple in the French settlers' diet as well.
George Washington grew sweet them on his Mount Vernon, Virginia farm.
In the 19th century, farmers in Benton, Kentucky would bring their sweet potatoes to the town square on county court days. This turned into the annual Tater Day Festival, a festival devoted to sweet potatoes that is still held every April.
There was a shortage of wheat flour during WWI, so sweet potato flour was added to baked goods to stretch the wheat flour.
The annual Yambilee sweet potato festival takes place every October in Opelousas, Louisiana.
Vardaman, Mississippi calls itself "The Sweet Potato Capital" and holds the National Sweet Potato Festival every November.
Orange sweet potatoes are sometimes called yams but actual yams are a very different thing. Sweet potatoes labeled as "yams" in the United States are required by the USDA to also be labeled "sweet potatoes."
80% of the world's sweet potatoes come from China.
World production of sweet potatoes was 127,000,000 tons in 2004.
1.8 billion pounds of sweet potatoes were produced in the United States in 2007.
North Carolina produces more sweet potatoes than any other state in the U.S. Louisiana, California, and Mississippi are the other top producers.
In South America, a dye is made combining the juice of red sweet potatoes with lime juice.
Some companies in Taiwan are successfully making a type of fuel from sweet potatoes.
The average American consumes 4.5 pounds of sweet potatoes per year.