4 Health Benefits of Papaya Seeds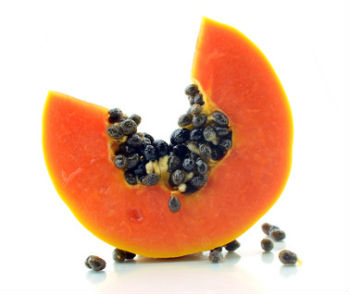 Not only are papaya seeds edible, but they are also good for you. Here are four health benefits of papaya seeds.
Antibacterial Properties
Research has found that papaya seeds are effective against E. coli, Salmonella, and Staph infections.
Kidney Protection
Research has found that papaya seed extract may protect the kidneys from toxin-induced kidney failure.
Eliminates Intestinal Parasites
There is evidence that papaya seeds eradicate intestinal parasites. In a study done on Nigerian children with intestinal parasites, 76.7% of the children were parasite-free after seven days of treatment with papaya seeds compared to only 16.7% of the children who received a placebo.
Liver Detoxifier
In Chinese medicine, it is believed that a teaspoon of papaya seeds will help detoxify the liver. Papaya seeds are often recommended by natural doctors in the treatment of cirrhosis of the liver.