6 Health Benefits of Lentils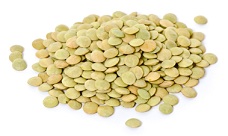 Lentils are low in calories and high in nutrition. Eating them at least once a week is a great way to add these tasty legumes to your diet. Here are six health benefits of lentils.
Heart Health
Studies have found that people who eat high fiber legumes like lentils have a much reduced risk of heart disease. The high levels of folate and magnesium in lentils also go a long way in protecting the heart.
Stabilize Blood Sugar
Due to their high fiber content, lentils help in regulating blood sugar by providing steady, slow-burning energy and balancing blood sugar levels.
High in Iron
Lentils are loaded with iron and are a great way to replenish the body's iron stores, especially for people who don't eat red meat like vegans and vegetarians.
B Vitamins
Lentils are a great source of B vitamins, most notably folate and niacin (B3). B vitamins are important for the healthy functioning of the nervous, digestive, and immune systems.
Lower Cholesterol
Lentils are a great cholesterol lowering food due to their high levels of fiber.
Protein Packed
Protein makes up 26% of the calories in lentils and they have the third highest level of protein than any other plant food. It's no wonder that they're a staple in many parts of the world.