7 Health Benefits of Bacopa Monnieri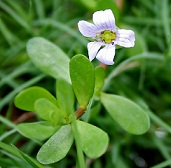 Bacopa monnieri is an herb that has been used in Ayurvedic medicine for thousands of years. Now, several studies have found that it is indeed a powerful medicinal herb. Here are 7 health benefits of bacopa monnieri.
Anxiety
Studies in humans have found that bacopa supplements may help to reduce stress and anxiety. These studies found that it needs to be taken regularly in order to achieve these results.
Cognitive Function
In India, bacopa is known as a brain tonic because it can be used to improve learning problems, memory, and concentration. Recent research backs up this traditional usage. A study on older, healthy Australians at Southern Cross University in New South Wales, Australia found that bacopa has a remarkable ability to improve memory acquisition and retention.
Alzheimer's Disease
One 2007 study at Texas A&M University found that bacopa reduced amyloid deposits in mice with Alzheimer's.
Depression
A study at Banaras Hindu University in India found that the effectiveness of bacopa monniera on the symptoms of major depression was comparable to the drug imipramine.
Cancer Prevention and Treatment
Bacopa has long been used in the treatment of cancer in Ayurvedic medicine. A 1995 study found that bacopa caused cancer cells in mice to self destruct. More research needs to be done to evaluate bacopa's full anti-cancer potential.
Anti-Fungal
A study published in the International Journal of Pharmacology found that bacopa has antifungal properties against Microsporum (responsible for ringworm and other diseases), Aspergillus flavus (infects the lungs and brain and produces aflatoxin, a carcinogen), Aspergillus niger (causes fungal ear infections and lung disease), and Trichophyton rubrum (responsible for athlete's foot, jock itch, and ringworm).
Irritable Bowel Syndrome
One study found that bacopa, when taking with bael fruit, was more effective than conventional treatment in patients with severe diarrhea associated with irritable bowel syndrome. In patients with constipation as the main IBS symptom, conventional treatment worked better. However, both conventional treatment and the bacopa/bael treatment worked better than placebo in all cases. There hasn't yet been research on bacopa's effect on IBS without bael fruit.
Conclusion
As with any supplement, talk to your doctor before taking bacopa. To find out about any side effects or contraindications of bacopa, please see Side Effects of Bacopa Monnieri.