8 Facts About Chicken Wings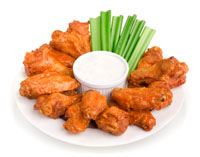 What better day to write about chicken wings than on Super Bowl Sunday? It's basically raining chicken wings all over the country today. Here are 8 facts about them that you may not have known.
1. Buffalo wings originated in Buffalo, New York, where they are not called Buffalo wings, but just "wings" or "chicken wings."
2. Chicken wings became a nationwide phenomenon after the Buffalo Bills appeared four consecutive years in the Super Bowl in the early 1990s.
3. Over 13.5 billion chicken wings will be sold through restaurants and groceries in 2012.
4. According to the National Chicken Council's 2012 Wing Report (who knew there was a wing report?) says that 1.25 billion chicken wings will be consumed on Super Bowl weekend 2012, which equals more than 100 million pounds of chicken wings. Holy chicken wing.
5. If the 1.25 million chicken wings eaten on Super Bowl weekend were laid end to end, they would reach a quarter of the way to the moon or circle the Earth over two times.
6. 23% of Super Bowl viewers eat chicken wings, which makes them the second most popular food item on Super Bowl Sunday after dips and spreads.
7. The Wingstop restaurant chain employs 6,500 wing experts nationwide in preparation for Super Bowl Sunday.
8. The Wing Bowl is an annual competitive wing eating contest that is held on the Friday before the Super Bowl. At the 2012 Wing Bowl XX, Takeru Kobayashi ate a record 337 wings in front of an audience of 20,000 people at the Wells Fargo Center in Philadelphia. 255 wings was last year's record.