8 Health Benefits of Watermelon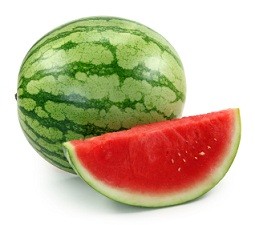 There's nothing like a slice of cool watermelon on a hot summer's day and it seems that people have felt that way since ancient times. Watermelon is mentioned in the Old Testament and its seeds were found in the tomb of Egypt's King Tutankhamun in the second century B.C.
Here are 8 health benefits of watermelon.
Cancer Prevention
Watermelon contains concentrated amounts of vitamin C and beta-carotene. These powerful antioxidants prevent free radical activity, a known cause of cancer. Pink watermelon is chalk full of the potent carotenoid antioxidant, lycopene. Lycopene has a proven track record fighting a variety of different cancers in human patients, including prostate cancer, breast cancer, lung cancer and colorectal cancer.
High In Antioxidants
One cup of watermelon provides 21% of the daily value of vitamin C and 17% the DV of vitamin A.
Boosts Immune System
The high concentration of vitamin C in watermelon gives a boost to the immune system.
Energy Production
Watermelon is rich in the B vitamins considered essential for energy production, including B1 and B6. It also contains good amounts of magnesium and potassium.
Hearth Health
Research conducted at the University of Kentucky showed that consuming watermelon may have a positive impact on artery clogging plaque that can lead to heart disease, heart attacks and stroke. The study of mice fed watermelon juice showed improved lipid profiles and lower fat accumulation compared to those fed only water.
Lower Blood Pressure
Some of the amino acids in watermelon contribute to relaxation of blood vessels, which may help keep blood pressure at healthy levels.
Eye Health
Watermelon is a great source of lutein, which is known to protect the eyes from age related disease. Research shows that the other complex vitamins and compounds found in watermelon may also help strengthen the eyes and prevent age-related eye diseases such as macular degeneration.
Weight Loss
While watermelon has not been proven to directly prevent unwanted weight gain, it has an extremely low calorie to nutrient ratio, making it an ideal addition to any weight loss program.