8 Healthy, Creative Pumpkin Recipes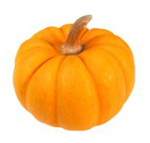 Fall is the season for cooking with pumpkins, but all too often our favorite pumpkin recipes are laden with fat and calories.
I've found eight recipes that are not only good for you but they're also creative. Many of them are great starting points for you to create your own healthy pumpkin recipes.
Baked Pumpkin
This dish is a fantastic, healthy alternative to traditional pumpkin pie when sprinkled with pumpkin pie spice or cinnamon. [recipe]
Pumpkin Pear Waffles
Low in calories and fat, these are a healthy way to start any morning. [recipe]
Pumpkin Banana Muffins
The perfect breakfast treat for a chilly fall morning, these muffins contain pumpkin, applesauce, banana, and whole wheat flour. [recipe]
Pumpkin Soup
Pumpkin soup is a comforting fall favorite, but many recipes call for unhealthy ingredients like milk and butter. This recipe is healthier, contains vegetables, and no dairy products. [recipe]
Mexican Pumpkin Soup
An unusual pumpkin soup, this vegan soup recipe calls for the addition of beans, jalapeno peppers, cumin, and cilantro. [recipe]
Vegan Pumpkin Pie
Whether or not you're a vegan yourself, you might have a friend or family member who is. This vegan pumpkin pie is healthy and made for both vegans and non-vegans to enjoy. [recipe]
Pumpkin Stuffed with Lentils
Stuffed baby pumpkins with brown rice, lentils, mushrooms, and other healthful goodies.
[recipe]
Brazilian Stewed Pumpkin
Go Brazilian this fall with an unusual dish that combines pumpkin, garlic, and onions.
[recipe]