8 Ways to Use Radish Leaves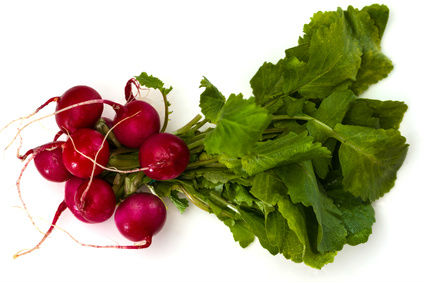 Next time you're about to throw those radish leaves in the trash, think again. Not only are they edible, but they're incredibly healthy and versatile.
Here are 8 ways to use radish leaves.
Stir Fried
Radish leaves are delicious stir fried with garlic, olive oil, and/or butter and served as a side dish to any meal. Treat them just as you would spinach or Swiss chard. I like to chop up the radish roots and stir fry them with olive oil, onions, and garlic, then throw in the radish greens and sautee until they are wilted. I often do a mix of radish greens, Swiss chard, and beet greens.
In Salads
Raw radish greens are great in salads, especially young radish greens which are more tender than their more mature versions. They are slightly bitter but they add a nice flavor to otherwise bland lettuce mixes.
In Pesto
Want a little something different than basil pesto? You can use radish greens instead of basil.
Green Smoothies
People usually put greens like kale, collard greens, spinach, and lettuce in green smoothies. To shake things up a bit, add a bunch of radish greens to the blender.
Juicing
Add some radish leaves to your favorite juice recipe. Try radish greens in combination with ginger, apple, and carrots for a delicious, healthy pick-me-up.
In Soup
Radish greens make a great addition to hearty soups with other ingredients like potatoes, onions, and other healthy vegetables.
In Lasagna
Substitute radish leaves for spinach in lasagna or mix half spinach and half radish leaves.
Tossed with Pasta
After stir frying the radish leaves as described above, toss them with pasta (penne works great) and add a bit of parmesan or pecorino romano.