Aerolatte Milk Frother Review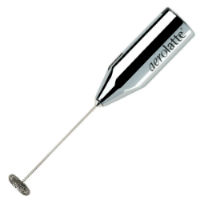 Love gourmet coffee drinks but hate the expense of buying them in coffee shops and don't want to buy an expensive machine? Now there's no longer any need to spend hundreds or thousands to make a really, really good cup of coffee at home. The Aerolatte Milk Frother
is the solution to all of that for less than twenty bucks. We use ours every day to make frothy milk for homemade cappuccino, espresso, and other coffee drinks. It can even turn heavy whipping cream into whipped cream!
The foaming mechanism that is attached to a traditional espresso machine like the Philips Saeco Vienna Plus Automatic Espresso Machine
forces pressurized hot steam through a wand to make foamy bubbles. If you have a good technique, the foam spins in the cup and reduces into thick cream which can support a coin's weight if done just right. This takes practice, though, and there will likely be a few messy milk incidents before you get it right.
Full size espresso machines have gotten quite a bit less expensive recently but the easiest, fastest and most economical way to make top notch foam or whipped cream every time is the Aerolatte Milk Frother
. It can do enough foam for a cappuccino in about 20 seconds and as long as you keep the frother submerged in the milk while it is on it will keep all the milk in the cup. Whipped cream with the Aerolatte
is the best imaginable because it's whipped fresh and at high speed so the cream is fluffy and very light. According to the included instructions it also makes a great natural "whip shake" which is just milk mixed with your favorite seedless jam. It can also be used to thicken sauces and other culinary concoctions. Clean up is a snap. Just operate the mixer under a stream of hot water being sure not to get the motor and battery case wet.
There are less expensive milk frothers but most are of far inferior quality and tend to break after just a few dozen uses (we should know because we tried a couple of them before we purchased our Aerolatte and they only lasted a couple months!) The Aerolatte
comes with a 5 year warranty to protect your purchase so you can buy with confidence. The average coffee shop patron spends between $1,000 and $2,000 on coffee each year so if you can make half of the coffee you drink at home with comparable results this product is a great buy.