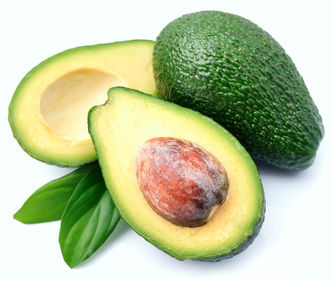 For years, there have been anecdotal reports of avocado being an effective remedy for psoriasis and now at least one study seems to have backed up that claim. While not every natural remedy will work for everyone, the beauty of natural treatments is that there are no side effects and therefore no harm in trying them out. Here's some information on how to use avocado for psoriasis.
Healing and Moisturizing
The University of Maryland Medical Center did a study on the effects of avocado for psoriasis and they found that many people experienced positive results from using avocado oil. Applying avocado oil directly to the affected area of skin may help your psoriasis patches to heal faster. Also, avocado can keep the skin moist and supple, preventing the cracking that may occur with psoriasis.
Scalp Psoriasis
Treating scalp psoriasis can be difficult because of your hair, but an avocado and olive oil mixture can be a great way to treat your scalp without harsh chemicals. Scoop out the fruit of the avocado and mash it in a bowl with a little bit of olive oil. Use egg beaters to whip it so that it takes on a light, smooth consistency, adding more olive oil as needed.
Towel dry your hair and then massage the mixture into your scalp. Place plastic wrap over your hair and let it sit for 30 minutes. Then use a fine tooth comb in the shower to remove the scalp scales and shampoo your hair once or twice to get out the excess avocado.
Avocado Cream
One study looked at the benefits of using a skin cream which included avocado for psoriasis treatment. The skin cream included other ingredients as well, so no strong conclusions were made about the effectiveness of avocado alone for psoriasis. But, many people have found benefit from applying avocado directly on their skin.