Breville Juicer | Breville Juice Fountain Elite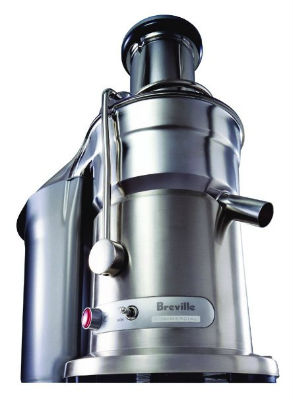 The Breville Juice Fountain Elite
is a centrifugal juicer (as opposed to masticating or triturating), which means it juices at a high RPM. A faster juicer means you spend less time juicing but because of this speed some nutrients and enzymes are lost. That's why many people prefer masticating or triturating juicers, because they preserve more of the nutrients by juicing at a lower speed. However, for many people this isn't an issue. If you just want some good, basic juice to start your day, a centrifugal juicer may be all you need. If you're looking to get the most bang from your fruits and veggies, you're going to want a masticating or triturating juicer.
The Breville has a large feed chute (you can put in whole apples), is easy to assemble, and easy to clean. It can be put in the dishwasher.
This machine is very loud and that does bother some people. The size of the machine is large, but having read some reviews on Amazon and other sites, it seems that most people aren't bothered by the bulk of it. I personally prefer the compact size of my Omega 8005 Juicer
, but for many people size doesn't matter.
Overall, I'd say the Breville is a pretty good juicer for those who want their juice easy and fast and for those who aren't worried about extracting all the juice from their produce. The Breville is definitely one of the most popular juice machines on the market and probably the best of the centrifugal models.
Learn more: Breville Juice Fountain Elite