Camu Camu – A New Superfruit from the Amazon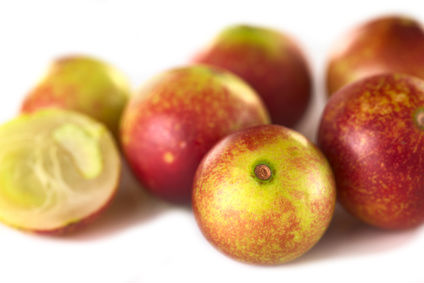 Camu Camu (myrciaria dubia) is one of the latest superfruits to come out of the Brazilian and Peruvian rainforests and onto the world health scene. It is a berry that grows wild in bushes along the Amazon river.
While many people may tout this berry as the "new superfruit," it has been eaten for centuries by the native peoples of South America. It has recently become popular in Japan due to its many touted health benefits and is becoming more well known in Europe and the United States.
It is said that the Camu Camu berry contains more Vitamin C than any other plant in the world. This berry is also a natural anti-depressant, antioxidant, and antiviral.
Camu Camu is more expensive than other superfruits of its kind because of the difficult production process involved in collecting and shipping the fruit overseas.
All Camu Camu products on the market today come from the wild and there is concern that it will become endangered by over-harvesting. In order to sustain its continued export as it grows in popularity throughout the world, there are efforts to begin commercial growing of the fruit.
So where can you buy this new superfruit? Powder made from the pulp of the fruit is sold in some health food stores in loose powder as well as capsule form. If you can't find it locally, there are several online retailers selling the powder.