Can You Freeze Avocado? | Freezing Avocados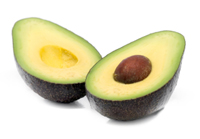 Can you freeze avocado? A lot of people wonder if you can and how to do it, but the fact is that avocados don't freeze well.
However, you can can puree them and freeze them for later use in guacamole, sandwiches, dips, and salads.
To puree avocado, peel the fruit and remove the pit. Puree the flesh, add half a tablespoon of lemon or lime juice for each avocado, and place the puree into a plastic container or bag leaving about half an inch of air at the top.
Seal the container and place in the freezer. The mixture will stay good for four or five months.
After thawing, use within three days.