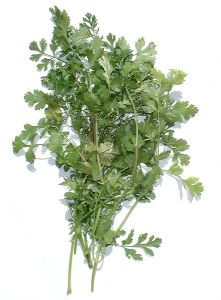 Tomorrow marks the official start of Cilantro Week. Why? Because I have declared it so. Cilantro, also known as coriander, is one of my favorite herbs and a crucial ingredient in many recipes. It is also incredibly healthy.
We'll post recipes, fun facts, and other stuff about cilantro over the next five days.
If you'd like to contribute to the cilantro madness, send in your cilantro recipes, your cilantro memories, and even your diatribes on why you hate cilantro. Yes, it turns out that many people hate cilantro and think it tastes like soap. They must be aliens!
Send your cilantro musings to eat @ healthdiaries.com.