Coconut Oil – A Psoriasis Treatment That Works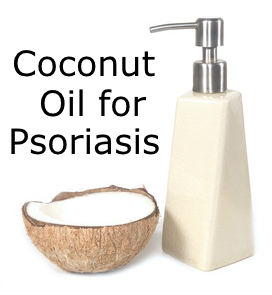 If you have psoriasis, you've probably tried many different things to make it go away, from prescription creams to natural remedies. Some treatments may temporarily make the condition a bit better but all too often the psoriasis comes back.
There are so many suggestions on the Internet for psoriasis treatments. I wrote a while back about turmeric for psoriasis and that does seem to do pretty well for some people.
However, in my recent research into the health benefits of coconut oil, I've learned that it may be the best treatment that exists for psoriasis. According to many people, it works better than anything they've tried. After learning about this, I told a friend about it and she promptly began applying coconut oil to a patch of psoriasis on her elbow. It helped immediately and after two weeks, the psoriasis, which had plagued her for over ten years, was completely gone.
Now, here's something interesting: my friend also had psoriasis on other parts of her body but she didn't apply the coconut oil to those areas because she had decided to test it on her elbow first. However, she began ingesting coconut oil in her daily diet after I told her about its health benefits and those areas also cleared up within two weeks and have not returned.
Therefore, based on her experience and the anecdotal evidence of other people who have tried it, I'd recommend that anyone with psoriasis try adding 2-3 tablespoons of coconut oil a day to their diet as well as apply it topically once or twice a day to the affected areas.
I'll be writing about the other health benefits of coconut oil soon. In the meantime, I invite anyone who's tried coconut oil as a psoriasis remedy to post a comment here with any advice or stories for others who are looking for a natural psoriasis remedy.
If you're ready to try coconut oil for psoriasis, one of the best ones you can buy is Nutiva Organic Extra Virgin Coconut Oil
.