Dairy Free Chocolate Pudding Recipe with Chia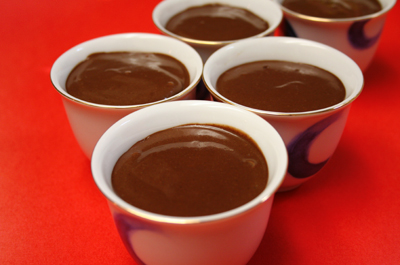 Here's the first dessert recipe I've made using chia gel (Salba gel). I have to say I'm pretty happy with the results. The chia gel in this dairy free chocolate pudding recipe gives the pudding a nice, thick consistency, adds mass, and doesn't affect the flavor at all. For this recipe I made the gel in a 1:4 ratio – 1 part chia seed to four parts water.
The recipe contains no eggs or dairy and is suitable for vegans. I used coconut milk but you could use soy milk, almond milk, or just water instead. I like coconut milk because it's rich and creamy like milk.
The bananas and semi-sweet chips provide enough sweetness for me but you might want it sweeter, so taste the final mix for sweetness and, if necessary, add a bit of your favorite sweetener to taste.
Ingredients
2 c. sliced bananas
1/4 c. coconut milk
1/2 c. chia gel or Salba gel (1 part chia to 4 parts water)
1/4 c. almond flour
1 c. semi-sweet dark chocolate chips
1 t. vanilla extract
1 t. almond extract
1/2 t. nutmeg
1/2 t. sea salt
Directions
Pour half of the coconut milk into a blender. Add one or two slices of banana and blend. Keep adding banana one slice at a time until they are all blended, adding the rest of the coconut milk as needed so it will blend.
Add chocolate chips, sea salt, vanilla extract, almond extract, nutmeg, almond flour, and blend.
Once you've got everything else blended, add the chia gel and blend. You'll see that it disappears right into the mix and you won't even know it's there except for the fact that it adds a nice, thick consistency.
Pour pudding into bowls and chill in refrigerator for several hours. I poured mine into small Japanese teacups (shown in picture above) which are perfect for individual servings.
This recipe makes about 3 cups or 24 ounces of pudding.