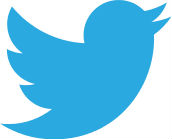 Eat This! is now on Twitter! Follow us to get our latest updates as well as links to interesting health food and nutrition-related links from around the web.
We're still getting the hang of the "twitterverse" but in the first few days of tweeting we've connected with some really great people who are interested in food, nutrition, health, and wellness.
If you're on Twitter we hope you'll follow us and say hi!
Follow us @eatthisblog