Electric Food Steamers Make Steaming Easy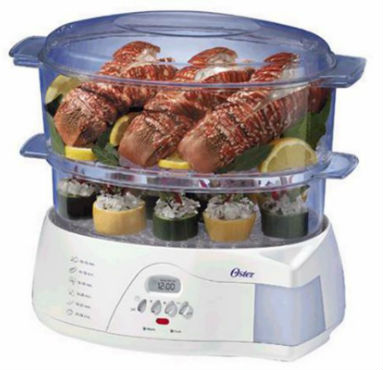 One of the healthiest ways to cook is to steam food. Steaming food preserves important nutrients in vegetables such as flavonoids and vitamins and essential Omega-3 fatty acids in seafood. Stir-frying, boiling, grilling, and other high-temperature heating methods destroy many important nutrients. This is one reason that people on a raw food diet don't cook – because of nutrient and enzyme loss. So if you're not a raw foodist but you still like your food to be full of nutrition, steaming is probably your best bet.
I recently bought an electric food steamer and it's been great. I just pop the food into the steamer, fill it with water, set the timer, and go do something else while it cooks.
I have the Oster 5712 Electronic 2-Tier Food Steamer
, which makes it easy to cook several things at once. For instance, I often cook fish on the lower level and veggies on the upper level. It also has a rice bowl that makes cooking rice easy.
Here's a little trick I have: since I love the taste of food sauteed in garlic and olive oil, what I do is steam the food until it's almost done and then very briefly stir-fry it to finish cooking and to get the flavor and a bit of healthy olive oil. Because stir-frying causes some of the Omega-3 fatty acids to be lost from the fish, doing it this way gives me the best of both worlds. The only downside is an extra pan to clean.
There are several electric food steamers on the market. The Oster 5712
and the Black & Decker HS1050
seem to be the most reliable and popular. Of course, you can steam food without an electric steamer by doing it the old-fashioned way, but I couldn't live without my electric steamer these days and definitely recommend purchasing one. The ease of steaming different things encourages me to eat a wider variety of vegetables.
The other great thing is that you don't have to thaw frozen food. When I don't have any fresh vegetables or am too lazy to wash and chop them, I just throw a bag of frozen veggies into the steamer and they're done in ten minutes. Ditto with the fish. You can steam frozen fish and frozen shrimp in just a few minutes.