Excalibur Food Dehydrator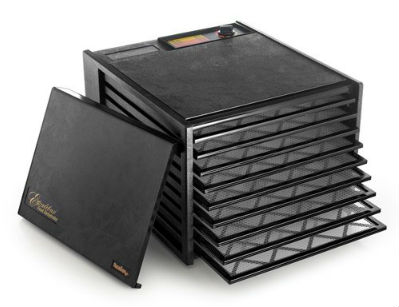 About a week ago I purchased an Excalibur food dehydrator and I've been having a lot of fun with it. Dehydrators are popular with raw foodists because they enable one to make healthy snacks and meals that aren't heated over 118 degrees. (Raw foodists believe that heating food over 118 degrees destroys the natural enzymes in the food).
While I don't necessarily consider myself a "raw foodist," I do try to eat as much wholesome, raw, unprocessed food as I can and a dehydrator is a great way to make things more interesting in the healthy eating department.
In addition to creating "raw" foods, a dehydrator can be used to make jerky, preserve fresh fruits and vegetables from your garden, make homemade energy bars and granola bars, make fruit roll-ups, re-crisp stale crackers, raise yeast breads, and much more. Raw foodists also use dehydrators to warm up cold dishes like raw soup and raw lasagna.
I chose the Excalibur because it seems to have the best feedback from people who use dehydrators on a regular basis, but there are other brands in varying price ranges such as L'Equip, Ronco, Nesco, and American Harvest.
I'll be posting recipes as I make them. So far I've had success making Banana Walnut cookies and Spicy "Cheese" Crackers that are completely vegan and will be posting those recipes in the next couple of days.
If you have a good, healthy dehydrator recipe that you'd like to share send it to me at eat AT healthdiaries.com and if it looks interesting I'll try it out and post the recipe with credit to the recipe creator and a link back to your site if you have one.