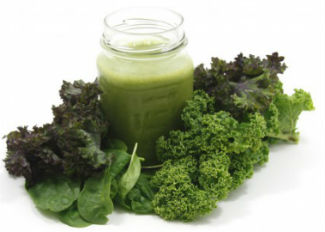 For a few weeks now I've been drinking a green smoothie every morning for breakfast. Green smoothies are smoothies made with a combination of fruit and greens, usually about 60% fruit and 40% greens.
Drinking your greens is a lot easier than chewing them. A lot of dark, leafy greens have tough fiber that's hard for our bodies to break down. By blending them you are basically pre-chewing them and breaking down the fibers in order to release the nutrients and make them more available to your body.
For example, it's not easy to eat four cups of raw collard greens if you have to chew every piece, but blend four cups of collard greens with a banana and some other goodies and you have a delicious drink loaded with nutrients.
Four cups of collard greens in a smoothie? That doesn't sound very tasty, you say. But let me tell you that you can't taste the greens at all if you use a banana as the base. I regularly put four cups of collard greens or four cups of Romaine in my smoothies with a banana and some berries and it tastes just like a banana milkshake.
Green smoothies are a great way to get kids to eat their vegetables. You can blend up all of those things so many kids (and adults!) refuse to eat, like broccoli, cauliflower, spinach, sprouts, etc.
Raw foodist Victoria Boutenko is credited with starting the green smoothie revolution and getting people into the idea of blending their greens with fruit. She wrote a book called "Green for Life" that has inspired a lot of people to drink green smoothies.
I urge everyone to give green smoothies a try. They might sound bad but they're actually delicious. I'll be writing a lot more about them in upcoming posts.