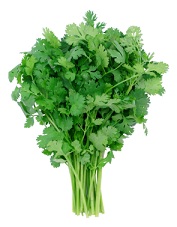 Want to grow your own cilantro? Planet Natural has great instructions on doing so here.
Here's an excerpt:
Native to the Mediterranean, no Mexican meal is complete without this herb. The fresh leaves are called cilantro and the seeds are used as a spice called coriander. Plants grow 1-3 feet tall and self-sow readily. Annual.

Fact: The Chinese believed coriander provided immortality and the herb is thought to have aphrodisiac qualities.
An aphrodisiac that confers immortality? Bring it on!