How many calories does rice have?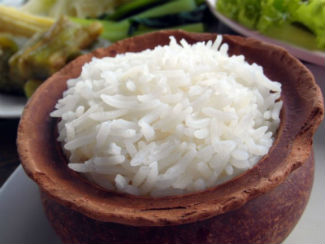 How many calories does rice have? It depends on whether you choose white rice or brown rice.
Cooked, white, medium grain rice has 242 calories per cup with 53.2 grams of carbs and 0.6 grams of fiber.
Brown rice is a considerably lighter option with 216 calories per cooked cup, about 45 grams of carbs and 4 grams of fiber. It is low in saturated fat, very low in sodium and contains no cholesterol.
For a rice substitute that is lower in calories and carbs, you might want to try cauliflower rice. When it is seasoned and cooked, it's a great low carb, low calories alternative to the real thing.