How Many Calories in an Avocado?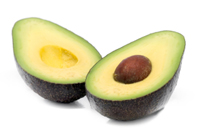 Despite the health benefits of avocados, people often avoid them because they are high in calories compared to other fruits and vegetables. So how many calories are there in an avocado?
According to the California Avocado Commission, one medium avocado has 250 calories and 22.5 grams of fat. The fat is mostly mono and polyunsaturated, both of which contribute to a healthy heart and body.
So don't be afraid to add avocado to your diet even if you're trying to lose weight. Substituting half a medium avocado (125 calories) several times per week for another 125 calorie snack will not add any calories to your diet but you'll be gaining all of the powerful nutrition it has to offer and that extra boost of nutrition will keep you satisfied longer and may even help with weight loss.