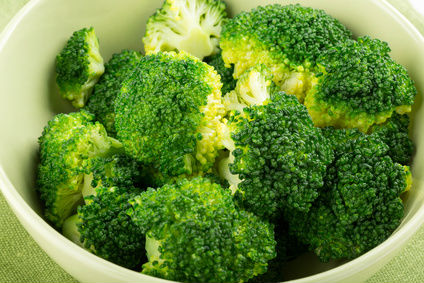 Before freezing broccoli, you'll need to blanch it. It's also a great way to prepare broccoli ahead of time so all you'll have to do when you're ready to use it is heat it up.
Here's how to blanch broccoli in seven easy steps.
1. Add water and a pinch of salt into a large pot of water, then bring it to a boil over high heat.
2. Fill a separate bowl or pot halfway with water and top it off with ice.
3. Prepare the broccoli by washing it and chopping it into bite-size pieces.
4. When the water is boiling, drop the broccoli into the water and allow it to cook for 60 – 90 seconds. Use a wooden spoon in order to keep the broccoli submerged while it is blanching.
5. Quickly take the broccoli out of the boiling water with a slotted spoon and put it immediately into the bowl of ice water to cool. The broccoli pieces should sit in the ice water for 1 – 2 minutes.
6. Remove the broccoli from the ice water and allow it to drain in a colander.
7. Serve immediately or store in the fridge or freezer until you're ready to use it.