How to Eat Papaya | Eating Papaya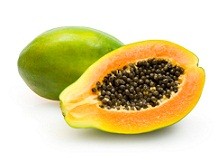 Wondering how to eat papaya?
First, cut it in half lengthwise. Scoop out the seeds (or leave them in – they are safe to eat).
Now simply eat the fruit out of the peel with a spoon or a melon baller.
Or you can peel the skin away from each half and then cut the fruit into slices or cubes to add to a smoothie or a salad.