How to Freeze Strawberries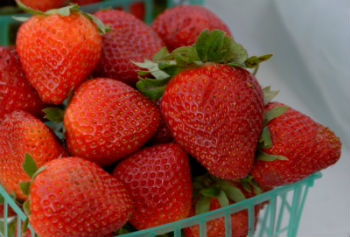 Since strawberries often go bad before you can eat them all, freezing them is a good way to keep them on hand for smoothies, jam, and other recipes that call for strawberries. I recommend buying only organic strawberries since non-organic strawberries are one of the fruits that contain the most pesticide residue. Here are instructions on how to freeze strawberries without ending up with a big clump of berries.
First wash them well and remove the stems and leaves, then pat them dry.
You can freeze them whole or slice them before freezing depending on what you plan to use them for.
Place strawberries on a cookie sheet with a lip in a single layer and freeze for 24 hours. The reason to freeze them on the cookie sheet for the first 24 hours is so they won't freeze together in a clump.
After about 24 hours, move them to plastic freezer bags or an airtight container and keep frozen until ready for use.