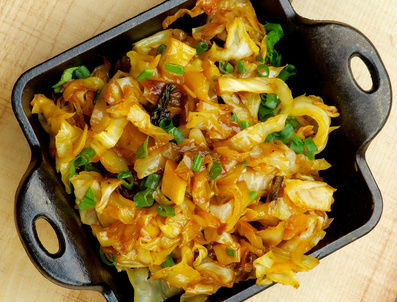 Cabbage is an incredibly healthy vegetable that is great stir fried by itself or with other ingredients. Here's how to fry cabbage in five easy steps.
1. Place a skillet on the stove top and add in about 2 cups of oil, then turn the heat to medium or medium high.
2. While the oil is heating up, rinse and chop two heads of cabbage. The cabbage should be chopped into bite-size pieces that will be easy to fry. Also, chop two cloves of garlic and a large onion.
3. When the oil is hot, add the garlic, onion, and cabbage to the skillet and stir fry. Season with salt and pepper to taste as well as anything else you like.
4. Let it cook for about 5 minutes, stirring the cabbage every 10 minutes to prevent it from burning.
5. Serve hot for the best texture. Sprinkle chives over the finished dish for a pretty presentation.