How to Make Chia Gel or Salba Gel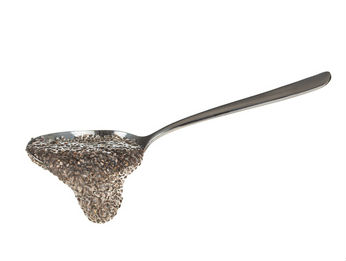 I've been experimenting with chia over the past week. It's quite a strange and interesting thing. Watching it turn into "chia gel" after letting it soak in water for half an hour is akin to watching some weird alien seeds from outer space transform into the blob.
When people say it turns into a thick gel, they aren't kidding. Not that this is a bad thing. I can see now why chia will be a great tool for making healthy desserts like pudding and pies. I plan to make Chocolate Chia Pudding this weekend.
To make your own chia blob, just add 9 parts water or liquid to 1 part Salba or chia seed. This is the ratio for a basic chia gel. The reason for the 9:1 ratio is that chia seed absorbs 9 times its weight in water. To make a thicker or thinner gel, just add more or less liquid.
I recommend using a glass jar with a lid just because I try to avoid putting food in plastics as much as possible, especially liquids. After adding the water, place the lid on, shake it, and place it in the fridge until it forms a gel.
I'm looking forward to experimenting with chia gel and to hearing from anyone who has experience using it in recipes.