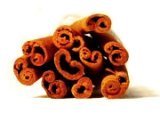 Cinnamon tea is a great way to reap the health benefits of cinnamon. You can buy cinnamon tea but it's quite easy to make your own with the following recipe.
Ingredients
1 cinnamon stick
1 c. of boiling water
Directions
Break cinnamon stick into pieces and place in a cup. Add boiling water. Cover and steep for 10 minutes. You can keep adding hot water to the cup to enjoy all day long. Use more or less cinnamon depending on the strength you prefer.
You can also place a cinnamon stick in any tea while it steeps to add flavor and health benefits.
If you want to make this tea see our 4 Best Cinnamon Powders article before you buy cinnamon sticks. It lists the best true Ceylon cinnamon powders and Ceylon cinnamon sticks so you know you're getting the real deal and not cassia, which has several potential side effects that real cinnamon does not.