How to Make Healthy Buffalo Chicken Wings That Taste Sinful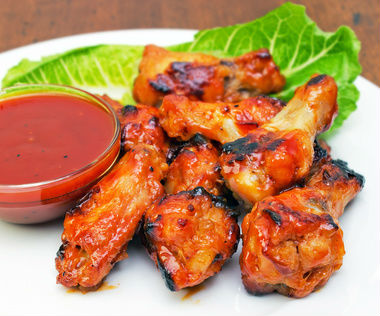 There are hundreds of chicken wing recipes floating around the web this week in time for the Super Bowl, from full-fat deep fried wings to healthy baked wings. But what if I told you there's a way to have the best of both worlds – the taste of deliciousness of deep-fried wings but with the healthy properties of baked wings? Yes, it is possible.
To do this, you'll need a kitchen appliance called the Actifry. It's made by T-Fal and is my new favorite cooking appliance. Dr. Oz mentions it on his site as a healthy way to cook and it's becoming more and more popular among people who want great-tasting healthy food.
I ordered my Actifry online but they sell them at Costco so if you decide you just have to have one to make amazing wings for the big game tomorrow and there's a Costco near you, you may be in luck.
Basically, the Actifry is a "healthy" deep fryer. With just one tablespoon of oil or sauce, it "deep fries" the food to yummy perfection by some kind of ingenious French magic.
Here's all you have to do to make wings that will make people think they're the real deal.
To keep the fat and calories down, use a healthy Buffalo sauce like Wing-Time Buffalo Wing Sauce – 45 calories for 2 Tablespoons, free of preservatives, no sugar added, and low sodium but tastes amazing.
Ingredients
Frozen chicken wings (organic wings are preferable, of course!)
2 T. Buffalo sauce (you can use more sauce if you prefer saucier wings)
Directions
Put the frozen chicken wings in the Actifry. Drizzle 1 tablespoon of the Buffalo sauce over the wings. Turn on the Actifry and set the timer for 25 minutes.
When the timer goes off, open the Actifry and put in the remaining tablespoon of buffalo sauce and cook for another 5 minutes.
What you'll end up with are juicy, healthy, delicious wings that are lower in fat and calories than regular wings and much tastier than oven baked wings. I've had people tell me they're better than any restaurant hot wings they've had. I recommend making a large batch!
Interested in the Actifry? Check it out on Amazon!