How to Make Kale Chips in the Dehydrator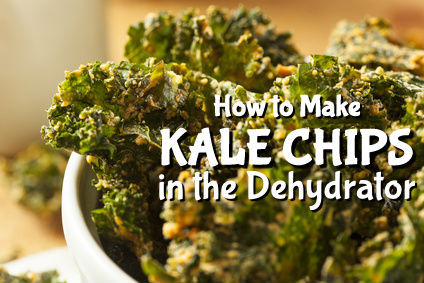 Kale chips are sold in health food stores for a lot of money but why pay for them when you can make them at home? If you have a dehydrator, it's easy. (Check out our list of the 5 Best Food Dehydrators if you want to buy one.)
Here's how to make kale chips in the dehydrator:
Ingredients
2 bunches kale
1 T. virgin coconut oil or cold-pressed olive oil
1 T. fresh lemon juice
2 T. nutritional yeast
garlic powder to taste
sea salt to taste
Directions
Wash the kale, dry it, and chop it into small pieces. You can include the stems or not, depending on your preference.
Put the kale into a bowl and add the coconut oil or olive oil, lemon juice, nutritional yeast, garlic powder to taste, and sea salt to taste.
Massage the kale for a few minutes until it softens up and all of the flavors are mixed together. Taste it and see if it needs more salt or garlic powder and add if necessary.
Lay the pieces onto the dehydrator sheets.
Dehydrate at 145°F for one hour, then lower the temp to 115°F.
After another hour, check them to see how crisp they are. Check them every hour until they are done to your desired crispness. Depending on your dehydrator and your preference, this could take anywhere from one hour to eight hours.
When they are done, put them in a bowl and toss with extra salt, nutritional yeast, and other spices if desired.