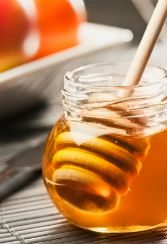 The combination of healing properties found in manuka honey would indicate that it is a promising, natural way to help prevent and treat cancer. Lab studies at the Memorial Sloan-Kettering Cancer Center in New York found manuka honey to have anticancer properties. However, due to limited lab research and clinical studies, it is unclear how effective it may be in this regard.
Here are some of the healing qualities that may want make you want to use manuka honey for cancer prevention and treatment:
Antioxidant Effects
Studies have found that manuka honey increases antioxidant activity in animals. Lab studies show the many flavonoids found in manuka honey to have anticancer properties.
Anti-Inflammatory
Manuka honey is highly regarded for its ability to reduce inflammation in cuts and wounds. The flavonoid compounds in manuka honey showed anti-inflammatory potential when studied in vitro. Taken internally, manuka honey may be able to reduce the risk of chronic inflammation, which is a major factor in the development of some forms of cancer. More studies are needed to confirm the connection between the anti-inflammatory ability of manuka honey and its ability to lower the risk of cancer.
Antibacterial & Antiseptic
Manuka honey has potent antibacterial and antiseptic properties that can help fight off infections related to cancer growth. These qualities may also help treat the side effects of cancer treatments like radiation and surgery.
Promotes Healing
The ability of manuka honey to promote healing in wounds and the regeneration of cells may make it a useful accompaniment for cancer treatments like radiation therapy and surgery.
Immune System Support
Most types of honey are believed to offer temporary boosts and long term support for the immune system. The potent medicinal properties of manuka honey suggest that it offers the same. However, more research is needed to confirm the relationship between manuka and the immune system. Maintaining a strong, active immune system is key in preventing cancer as well as handling vigorous cancer treatments such as chemotherapy and radiation.
Warnings
Clinical studies have found manuka honey to interact with some chemotherapy drugs. Patients should consult a doctor before using manuka honey in conjunction with other cancer drugs and therapy.