Meat Recall Reveals Sickness in Meat Industry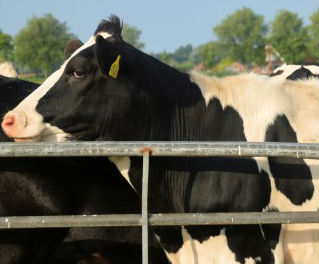 In the wake of the recall of 143.4 million pounds of beef from the Hallmark/Westland Meat Packing Company, the USDA wants to assure you that the cows in question were not necessarily "sick" but just "non-ambulatory," meaning the reason they had to be moved with a forklift to the slaughterhouse may have been because their legs were broken or injured and not necessarily because the cows were "sick."
It's illegal to put meat from "downed" or "non-ambulatory" cattle into the food supply because it has a higher risk of being contaminated with diseases and bacteria like mad cow disease, E.coli, and salmonella.
While the animals themselves may not have been sick, the people responsible for this level of animal cruelty definitely are. It's disturbing to think about the suffering these animals underwent and how long it might've been going on before they were caught in the act. Animals that are giving up their lives to be on your dinner table deserve, at the very least, to be treated with dignity and respect and to not be forced to endure unnecessary suffering.
The recall affects meat produced between Feb. 1, 2006 and Feb. 2, 2008 that bears the establishment number "EST. 336" on the USDA mark of inspection.