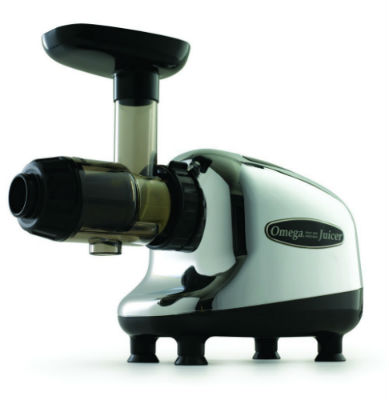 The juicer I own is the Omega 8005 Juicer
(the 8005 is the same model as the Omega 8003 juicer. The 8005 is chrome and the 8003 is white). Not having tried any other juicers, I can't compare it to other juicers but I can say that it definitely does what I need it to do. It is a single gear, masticating juicer that does a great job of extracting the pulp. The pulp comes out extremely dry. From what I've read, this model is supposed to extract more juice from the fruits and veggies than other single gear juice machines.
The machine is easy to assemble and easy to clean. You need to wash several parts after each use. The important thing is to wash them immediately after use. Otherwise, it will be hard to clean some of the parts. The machine comes with a brush to help with cleaning the juicing screen and it does help a lot.
I chose a masticating juicer because they rotate at a slower speed (80 RPMs) than centrifugal juicers such as the Breville Juice Fountain Elite
and are supposed to preserve more of the nutrients from the fruits and vegetables. While masticating juicers are more expensive than centrifugal juicers, I felt the extra expense was worth it. While triturating juicers are supposed to preserve even more nutritents than the masticating juciers, I felt a masticating juicer was enough for my current juicing needs. However, if I were fighting cancer or another serious illness, I would purchase a triturating juicer to make sure I was getting the most nutrients from the juice.
The Omega 8005 makes it easy to juice on a daily basis. It's great fun to see the pulp coming out. I've used the pulp from carrots in salads and I've heard of people using the pulp in all kinds of recipes. If you're looking for a juicer just a step above the basic juicers on the market but one that is still affordable, I'd definitely recommend this model.
Learn more: Omega 8005 Juicer