Papaya Seed Salad Dressing Recipe
Here's a delicious papaya seed salad dressing recipe that you can try at home.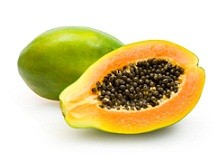 Ingredients
1/4 cup fresh papaya seeds
1/2 cup red wine vinegar
1/2 cup olive oil
1/4 c. yellow onion, chopped
1 tsp. ground, dry mustard
1/4 cup sugar
salt to taste
Directions
Put mustard, sugar, salt, and vinegar and blend until mixed.
Add olive oil and blend.
Finally, add the papaya seeds and onion and blend. You can add more papaya seeds if you want a more peppery flavor to the dressing.
Store in the refrigerator until ready to use. It will keep up to two weeks in the fridge.