Raw Vegan Cilantro Pesto Recipe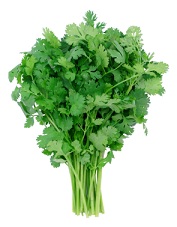 I made cilantro pesto for the first time tonight and it was delicious! Pesto is one of my favorite things in the world. However, the "regular" version contains dairy products and is pretty fattening. Also, some people can't eat dairy for dietary or philosophical reasons. Cilantro instead of basil is surprisingly fresh and tasty.
This version is raw, vegan, and low in fat and calories. However, it tastes just like regular pesto! I used Parma in place of Parmesan cheese. Parma is a vegan parmesan made from walnuts, nutritional yeast, and salt. (You can also make your own vegan parmesan by blending equal parts walnuts and equal parts nutritional yeast flakes in a food processor, then adding salt to taste.)
Ingredients
2 cups loosely packed cilantro leaves (stems removed)
2 tablespoons slivered almonds
2 tablespoons Parma (or homemade vegan parmesan)
2 tablespoons olive oil
2 tablespoons lemon juice
2 cloves garlic
2-4 teaspoons water (depending on desired consistency)
1/4 teaspoon sea salt
Directions
Blend all ingredients in a food processor and blend until smooth. Use more or less water to get the thickness you desire.
Serves 4-6 people.