Side Effects of Yellow #5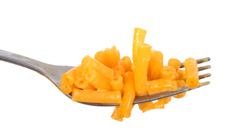 Yellow #5, or tartrazine, is a food dye made from coal-tar derivatives. It's used in a huge variety of popular products, including Gatorade, Mountain Dew, Doritos, Cheetos, Kraft Macaroni & Cheese, Skittles, Starburst, M&Ms, various brightly colored cereals, several Yoplait yogurt flavors, Marshmallow Peeps, gummy bears, most non-organic pickles, pepperoncini, and the list goes on and on. It is also found in many prescription drugs and vitamins.
They even feed it to hens so the yolks of the eggs they produce will be yellower. (Just one more reason to buy organic eggs as if we didn't have enough reasons already.)
It seems that our culture has an obsession with making day-glo, brightly colored food at the expense of health. Here are some of the side effects of yellow #5:
Hyperactivity in Children
In children, yellow #5 has been found to cause hyperactivity. The FSA (Food Standards Agency) in Britain released a warning about yellow #5 and other food dyes in 2008, stating that they may cause hyperactivity and loss of concentration in children. They recommended that parents restrict the use of products containing these dyes.
Anxiety and Depression
In people sensitive to tartrazine, anxiety and depression, fatigue, headaches, and sleep problems have been reported.
Rashes
Hives and itching have been reported in people who are sensitive to yellow #5.
Asthma Trigger
People with asthma have been found to be especially sensitive to yellow #5, which can trigger their condition. Those whose asthma is triggered by aspirin may be the most sensitive to yellow #5.
Cancer
Yellow #5 can sometimes be tainted with the carcinogenic chemicals benzidine and 4-aminob ciphenyl or with chemicals that can be converted into those chemicals by the body.