Super Bowl Sunday is Avocado Bowl Sunday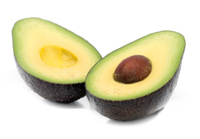 I don't watch the Super Bowl but I do love avocados and guacamole, which means I have something in common with Super Bowl viewers.
According to the Hass Avocado Board, Super Bowl Sunday is one of the year's biggest avocado-eating days, with more than 53.5 million pounds of avocado eaten – enough to cover a football field with a blanket of avocados more than 20 feet thick.
Actually, the idea of guacamole spread 20 feet thick across a football field may have just squashed my appetite for guacamole forever. Well, at least until tomorrow.