Thai Green Papaya Salad Recipe | Som Tam Recipe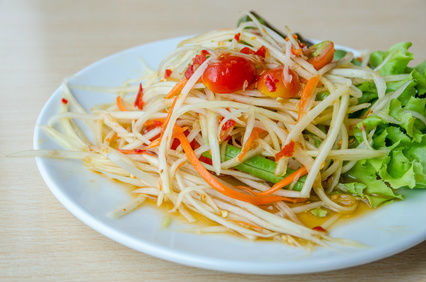 Green Papaya Salad is a Thai dish made with unripened papayas. It is called Som tam in Thailand. Som tam translates to "sour pounded" in English.
There are many variations on Som tam throughout Thailand and the world. The traditional version includes fish sauce and dried shrimp but Som tam can be made vegetarian while still being authentic as many Thai buddhists are vegetarians and enjoy vegetarian Som tam.
There's a delicious-looking Thai Green Papaya Salad recipe at RealThaiRecipes.com that can be made either with fish sauce and shrimp or in a vegetarian version.
If you have your own healthy Som tam recipe let me know and I'll post it here.